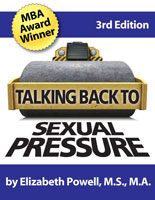 Talking Back to Sexual Pressure



REVIEWS OF 3rd (e-Book) EDITION
"… By far the best book available on assertiveness in sexual and dating situations. What I most appreciate about it is the compassion Powell shows for women and men. I chose it as the text for several college classes, and my students invariably gave it an A+ rating. Despite the seriousness of the subject, the book entertains as well as enlightens." Meg Selig, LPC, NCC. Author,Changepower! 37 Secrets to Habit Change Success.
"…an excellent source of information for handling sexual pressure, not only for nurses but for other medical professionals as well. Parents, adolescents, and adults can [also] benefit from this comprehensive and practical book on how to speak up in difficult situations." I.P., RN, MSN amazon.com.
"…packed with information and examples that helped me not only learn how to respond to sexual pressure, but also define my current attitudes…about sex. The author unflinchingly, and in a style that's down to earth, covers topics that most of us don't really let ourselves consider because sexual pressure is not usually talked about openly and sanely. I wish I had been in one of Elizabeth Powell's courses when I was young." Alice G., barnesandnoble.com.
"As a grandmother I felt this book so important and relevant for a college age man of today leaving home for the first time. It is so well written and very readable as well as factual. I know of no other to compare with this book." Barbara Hill, amazon.com.
"I highly recommend Powell's updated e-Book—it's private and portable. As a licensed psychologist for over 30 years, I only wish this book were required reading for all adolescents. I read Talking Back to Sexual Pressure to my daughter and it set an environment for questions and discussions that would never have occurred without this book." S.Klein., M.S., MSW.
"This e-Book should be required reading for every sorority, fraternity, and high school. …a reference book for any professional dealing with abuse or intimidation including counselors and legislators. The content is direct and frank….." C.Bostic., Ed.D., M.S., Counselor, Educator, amazon.com.
"…practical, relevant and important …recently updated. Thank goodness, it is now in e-book format, so that it can be read with the convenience and privacy afforded by a hand-held device. This down-to-earth and very readable book has been a life-saver for so many of my young (and not so young) clients." Sylvia Randall, Ph.D. Clinical psychologist, amazon.com.
REVIEWS and TESTIMONIALS of 1st and 2nd editions:
"Ms. Powell's book is an excellent resource—a thorough and complete "how-to-handle these situations" manual. Comprehensible, readable, and practical." The Webb Report, a Newsletter on Sexual Harassment.
"Appropriate for both teens and adults, this guide offers rules, facts, and practical dialogues to help increase sexual assertiveness." On Campus with Women, Association of American Colleges.
"If everyone could talk about sex as openly and comfortably as Elizabeth Powell, we wouldn't need this book. …People need [these] specific skills and sound advice for protecting their sexual rights." A frank, no-nonsense guide for men, women, and teens." "Recovery Reviews," Inside Recovery.
"Offers straightforward, direct—often amusing—guidance for men and women dealing with ambiguity about sexual matters in their personal and professional lives. If this book were available in every household, school, and office in the U.S., we'd be well on our way toward forging a stronger link between sex and health." Midwest Independent Publishers Association.
"Your book is excellent." Sol Gordon, Ph.D., distinguished psychologist, author of many books to help children and teens, such as Raising a Child Responsibly in a Sexually Permissive World, and You Would if you Loved Me.
"…likely to find a diverse and willing audience…, the book provides advice for teenage and adult male and female potential victims…. Step-by-step instructions and practical exercises for improving sexual communication skills. Wilson Library Bulletin.
"Your book was excellent (we reviewed it)…. Recovering people do have trouble with sexual boundaries; this could be very helpful to our readers. Sober Times.
"Believe it or not, a priest recommended this book to me! I work with college students as a health educator…. This is the only book I've found yet that speaks in plain language…without talking down to young adults. I have used portions of the book in training peer educators on alcohol and sexual assault issues, as well as conversations with individual students." Lisa C., 2012 review on amazon.com.
"…full of practical strategies to become more assertive about sex, respond to persuasion, cope with intrusion, and speak up for yourself. Supplies phrases and ideas [with] specific strategies for holding your ground against sexual coercion." LA Times Syndicate.
"…The book is a good self-help guide which is recommended reading for teachers and parents dealing with sex education, and anyone else trying to deal with sexually related harassment issues…." The Journal of Sex Research.
"Your book made me open my eyes. …I realized that ninety-nine percent of the relationships I have been involved in have been sexually abusive." Personal communication from C., Drew University Student.
"I am a marriage, family, child counselor….I have found your book a valuable resource and…would like permission to use the list of 'Your Sexual Rights' in my workshops." L.S.
© 2016 Elizabeth Powell, M.S., M.A. All rights reserved