Bio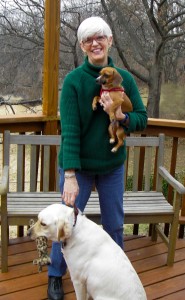 Elizabeth Powell, M.S., M.A., is a psychologist who was born in the little college town of Berea, Kentucky. In summer she spent time with her grandparents up in the mountains, where she learned to speak dialect and discovered the fascination of words. Her most vivid childhood memory is of listening to Henrietta Child, the daughter of Harvard's renowned ballad collector, telling stories to the mountain children.
Powell earned an M.S. in Clinical Psychology and an M.A. in Family Therapy. After working with patients for awhile, she became interested in mental health education, and she inserted coping skills wherever they fit into her teaching. She was Professor of Psychology at St. Louis Community College for many years, where she taught Child Development, Human Sexuality, and the Psychology of Coping Strategies–a course she designed. She also founded their AIDS Task Force. She was twice given the Master Teacher award by the National Institute of Staff and Organizational Development. Her background includes internships in clinical psychology and family systems therapy.
Trained in psychodrama and role play, Powell enjoys using humor. She also writes for children, where she sneaks in some coping skills whenever possible. She is a member of the Society of Children's Book Writers and Illustrators. When she is not writing or singing, she likes to rescue dogs.
© 2016 Elizabeth Powell, M.S., M.A. All rights reserved